KAREN WALKER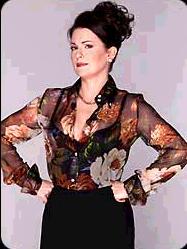 Megan Mullally brings to life the character of Karen Walker, Graces socialite assistant. Karen Walker is a pill-popping, alcohol-loving lady who has more money than she knows what to do with. After marrying Stanley "Stan" Walker, Karen began working for Grace to keep her "down to earth" and away from her step-kids, Olivia and Mason, or as Karen calls him, "the fat one". Though she works for Grace, she never actually does any work. While not insulting Grace's outfit for the day, she's too wrapped up in her own world, filing or painting her nails, reading a Vogue magazine until it is time for her 4-hour lunch in which she never returns back to work from.
"A lot of times the funniest characters are those who dont know that theyve got it all wrong. Karen is completely confident that her way is the right way."
-Megan Mullally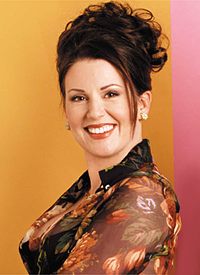 "The bottom line with Karen is that along with all of her qualities that might be offensive, she's happy as a clam. She has a joyous quality - that's what saves her and makes her likable. All is well in her world. When she criticizes someone, she's just trying to help."
-Megan Mullally
Though Karen mainly goes by Karen Walker, her full name is Karen Delaney-St. Croix-Popeil-Walker. (Stan is her second husband)
She is open about how she only married Stan for money and is very unaffectionate with him. Though after Stan's heart attack, she actaully shed tears for fear of losing him.
Karen often uses her body to get what she wants. She has a very strong love for Jack, who she absolutely loves to tease and flirt with. She shares a love for her maid, Rosario, as well even though the two continuously argue.
Another well-hidden fact is that Karen is actually between the age of 42-44 which Jack accidently let slip in "The Young and The Tactless". This woman has many secrets, she even has her own alias, "Anastasia Beaverhousen" in which she uses to disguise herself.
And I have came to realize, in past seasons Karen has never been the type to display open emotions as we all know, but now, in Season 5, we have seen her display many open emotions while going through a divorce with Stan, watching Grace getting married, and handling Will & Grace getting a "divorce" as she refers to it. Could this be a new turn to Karen?? I guess we will have to wait and see.