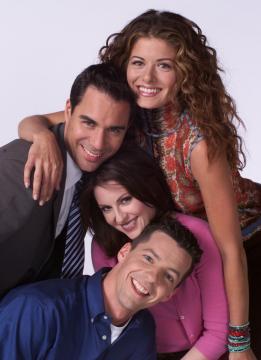 WILL & GRACE - The unique relationship between Will Truman (Eric McCormack) and Grace Adler (Debra Messing) continues to evolve this season in this adult comedy about two best friends and roommates Will who is gay and Grace who is straight. The two fit together imperfectly in companionship and with mutual respect even as each searches for the ideal romantic mate.

Now entering its fifth season, the Emmy Award-winning series has enjoyed both critical acclaim and ratings success as one of the centerpieces of NBCs Must See TV Thursday lineup. In its most recent season, Will & Grace was prime times No. 3 show among adults 18-49 and number-two comedy in that category -- as well as network televisions most upscale-skewing comedy. The comedy led its time period last season among adults 18-49, defeating CSI: Crime Scene Investigation.

In 2000, the series won three Emmys, including Outstanding Comedy Series, Outstanding Supporting Actress (Megan Mullally) and Outstanding Supporting Actor (Sean Hayes). In November 2001, Eric McCormack received an Emmy for Outstanding Lead Actor in a Comedy Series. Once again in 2002 Will & Grace received more Emmy nominations than any other comedy series, leading the pack with 13 nominations.

The series also has been honored with a Peoples Choice Award as Favorite New Comedy Series, 14 Golden Globe nominations for Best Comedy Series, an American Comedy Award nomination for Funniest Television Series, three GLAAD Media Awards for Outstanding TV Comedy Series and a Founders Award from the Viewers for Quality Television.

On the show, Will is a successful Manhattan lawyer -- likable, handsome and charming. recently ended a long-term relationship. Likewise, Grace is a beautiful, self-employed interior decorator. They both love fine wine, fashion and shopping. Will and Grace have been friends for a long time, and though theyre both looking for love, they long ago accepted the fact that there will be no romance between them. As a result, they face lifes ups and downs together, knowing they will always have each other to lean on.

Graces work life is complicated by her assistant, Karen Walker (Mullally), a wealthy socialite who only bothers to show up at work because it keeps her down to earth -- and because she likes to tell Grace how to live her life. Will has another good friend in the outrageous Jack McFarland (Hayes), a well-meaning but self-involved young man who comes with a complete matching set of emotional baggage. Shelley Morrison plays Karens maid, Rosario, and Michael Angarano plays Elliot, Jacks son.
SEE NEW EPISODES OF WILL & GRACE THURSDAYS 9/8 CENTRAL ON NBC!
UPCOMING EPISODES:
"Women and Children"
Grace has a girl's night in Brooklyn with Karen, Rosario, Ellen and new neighbor Julie -- and she offends Karen when she doesn't take her advice regarding Leo. Meanwhile, Jack reconnects with his childhood babysitter and falls back into childhood patterns, befuddling Will.
***airs February 13, 2003***
"Fagmalion Part 3: Bye Bye Beardy"
Will and Jack's transformation of Karen's schlubby cousin Barry is complete... but his coming-out party leaves Will with mixed emotions about his new "creation," prompting some unwanted advice from Grace. In another corner, Karen duels with her flamboyant rival Beverley Leslie in a war of wills during a silent auction for charity.
***airs February 20, 2003***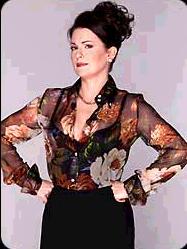 Karen Walker, a wealthy socialite, is the unusual assistant to interior designer Grace Adler (played by Debra Messing). Grace's sarcastic, wise and worldly (in the most interesting ways) assistant is a woman who bothers to show up at work only because she feels it keeps her "down to earth." She gleefully guzzles martinis at her work desk, she blithely trashes friends, and the only work she ever gets done is painting her nails and looking through her 600-page Vogue magazine. Karen is the diva Jack has always aspired to be. Explaining what attracted her to the part, Megan Mullally says, "A lot of times the funniest characters are those who don't know that they've got it all wrong. Karen is completely confident that her way is the right way."
Her full name: Karen Delaney-St. Croix-Popeil-Walker. After being previously married, Karen married Stan, which she openly admit is just for money, but in Season 2 we discover that she really does love him when, after they think Stan has had a heart attack, (episode known as "The Hospital Show") she sheds tears for a fear of losing him. She also has two step-children, Olivia and Mason, or as she calls them the attractive one and the fat one. Living in their penthouse along with the four are many of the workers and Karens maid Rosario in which she shares a deep, disguised love for. Though the two argue and fight, deep down they love one another dearly.
"The bottom line with Karen is that along with all of her qualities that might be offensive, she's happy as a clam. She has a joyous quality - that's what saves her and makes her likable. All is well in her world. When she criticizes someone, she's just trying to help." Explains Mullally of Karen.
Also, a very noticeable characteristic of Karen is that she is very strong. She will never show open displays of emotions to anyone; except for the one time she cried in front of Grace during "The Hospital Show" and in "The Rules of Engagement" when Grace was suppose to get married to Nathan. Yet she claim Karen Walker does not do emotions. But lately, during its 5th season I have noticed a change in Karens character. Such as in the episode "The Honeymoons Over" we see Karen cry twice, which is very unusual. Her character seems to be becoming more sensitive and caring. Are there more changes to come about to Karen Walker? I guess we will just have to wait and see.