THE PACT
They lived what they thought were the perfect lives. Their families had been best friends for 18 years, the Harte's and the Gold's. Yet when tragedy strikes and Emily Gold is shot and killed, their family and friendship is torn apart.
Melanie and Mitchell Gold (Megan Mullally and Henry Czerny) and Gus and James Harte (Juliet Stevenson and Bob Gunton) have been best friends and neighbors for years. When a romance blossoms between their teenagers, Emily Gold and Chris Harte (Eric Lively), the bond between the two clans becomes stronger than ever. But all that loving camaraderie is unraveled with one phone call beckoning both sets of parents to the hospital with bad news: One of their children has been shot and the other might be responsible for the tragedy. One event begins to tear the Gold's marriage, break the friendship between the two families, and eventually bring Melanie back to reality as to what really happened that dreadful night.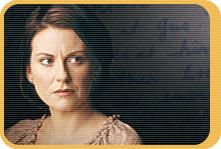 PERSONAL OPINIONS
I have heard so many different opinions of The Pact. Personally I believe it is by far one of the best movies I have ever seen. Maybe because it hits close to home yet I don't really think that's the most part of it. Megan Mullally's performance was so wonderful that words could not even begin to describe it. Juliet Stevenson was absolutely astonishing in it as well. Though others wish that the plot would have been focused more on the teenagers rather than the relationship of the two mothers, I feel that they set the plot perfectly. This was the most well-performed movie I have seen. The pain the characters were going through and their emotional state-of-being was seen so clearly to viewers which only true actors can do. If you have not yet seen this movie, I recommend it 100%. You have no idea what you are missing out on. You see a whole new side to Megan Mullally and to most, hardly anyone that I have spoken to has heard of her, you will meet a wonderful new actress, Juliet Stevenson. Henry Czerny, Eric Lively, and Bob Gunton also star who give you an amazing performance. I absolutely love Henry Czerny. Eric Lively, well he is a cutie pie, and Bob Gunton was kind of new to me but is a great actor from what I have saw. Watch this movie, it is the greatest movie of all time. - Tiffany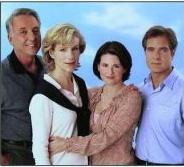 Dana's Opinion
My name is Dana and I saw The Pact when it aired in September. I, too,
thought the movie was fantastic. I am a huge Megan Mullally fan and I think
she did a fantastic job of portraying the mother. I have to say, ther
reason why Megan did such a good job was because of her quiet rage. To, me,
she looked like a volcano ready to explode at any moment, her rage was quite
apparent and the way that she alienated her friends and family was just
amazing to me. Unlike, most Lifetime movies, The Pact didn't go sappy or
overtly emotional. It was quite restrained and to me, that's what made it
so amazing. There were not clear cut answers to the questions, the audience
were forced to think for themselves.

This movie was such a departure for Megan. Most of us are used to seeing
"Karen" all the time, but in fact, Megan is a brilliant dramatic actress.
As an actress, she doesn't take the easy way out, in working with the
character, she could have easily cried and boo-hooed her way throughout the
movie--but she didn't she showed us the strength in her character. Megan is
amazing, brilliant, beautiful and extremely talented. I fully enjoyed the
movie. I usually don't watch too many Lifetime movies because they just get
too sappy but The Pact was wonderful. I recommend anyone to watch it.
Especially Megan fans.
Sherry's Opinion
The Pact was an excellent movie.. It showed Megan's more sensitive softer side as well as her more serious.. There were a couple of scenes in the movie where I wanted to reach out and hug her at times.. She really touched my heart by her perfomance. The movie as a whole was good and had some outstanding actors. Though I had never been able to view the other 3 actors they did however, grow on me.. They all played their parts well.. There were a couple of parts within the movie that I could have done without because it hurt me to see the people go through the things that they did but it all came into effect to form the whole idea of the movie. It was well written and well acted out.. It was a true success for that of Megan Mullally...
Would you like to share your opinion? E-mail me at tiffanyg@muhlon.com to let me know and I'll post your opinion!